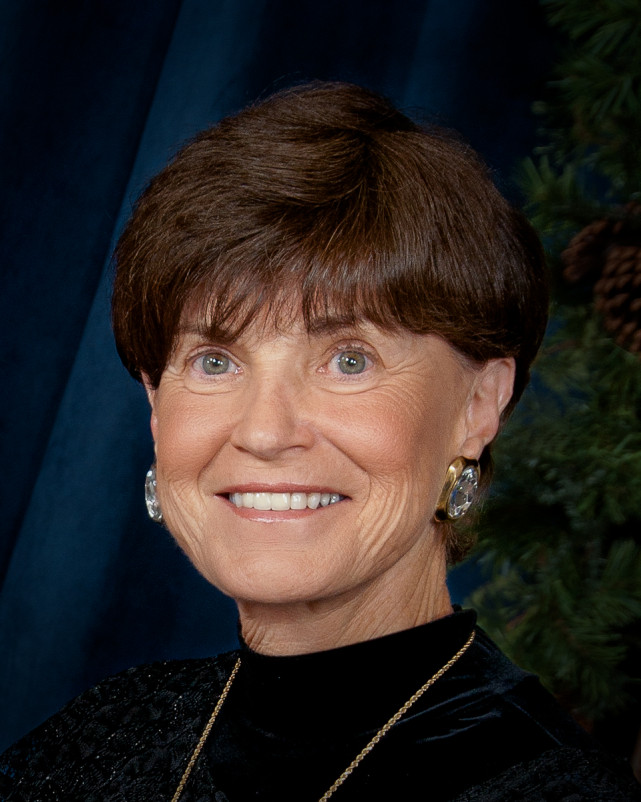 DECEMBER 30, 1943 – NOVEMBER 30, 2021
Patricia Jane Parsons, known affectionately as "Pat" or "Patsy" to friends and family, passed away peacefully at home surrounded by family on November 30, 2021 at the age of 77 in Carlsbad, California. She was the daughter of the late James B. and Jane R. Davenport, beloved wife of Terry B. Parsons, dearest mother of Paige and Thorley, loving "MomMom" to Adam, Caleb, Emma, Morgan, Gus, and Noah.
Pat was the physical embodiment of what it meant to love life and everyone and everything in it. Her love infected everyone she met. Pat left lasting impressions on all those around her as well as many places throughout the world. She was the rock that her entire family could always lean on in times of struggle and heartache; no matter the situation, when you were around her you felt that all was right and good in the world. She showed everyone she met what it meant to be selfless and loving; Pat left family and friends so overflowing with love that they had no choice but to share that love with others. She also expressed her love through her cooking, especially her desserts, which will continue to be baked and savored by those closest to her.
Born December 30, 1943 to James and Laura Jane Maude (Ryder) Davenport in Delphi Falls, New York, Pat attended a one-room schoolhouse for grade school. After her family moved to East Syracuse, she graduated from Fabius High School. Pat received a scholarship to Central City Business Institute (CCBI) in Syracuse, where she completed the secretarial course with honors.
Pat met Terry on a double date in 1964, while both were working at General Electric in Syracuse. They weren't even each other's dates, but discovered they were soulmates. They were married in 1966 at the First English Lutheran Church. Pat loved to spoil her husband; as a small example, she lovingly peeled, cut, and sectioned every grapefruit he ever ate (and he ate a lot of grapefruit.)
For most of her career, Pat worked as an executive assistant for a series of appreciative CEOs across the country. Ross Edwards Sr., a founder of Webcor, said "we all referred to her as Mary Poppins." Everyone who knew Pat would agree she was practically perfect in every way. James W. Hyder Jr., CEO of Fetter Printing, used to say that Pat was "tenacious like a dog with a bone." She was an excellent wordsmith and lent those skills to her family, even proofreading Carl's PhD thesis. We wish she were here to help with these final words.
Pat and her family lived in many homes, from New York to California, with numerous states in-between (some more than once), before ultimately settling in Carlsbad. She always made each house a beautiful home, never needing a professional stager when they moved. Pat spent endless hours on home projects such as gardening, decorating, patchwork wall papering, painting and refinishing antiques. Even when visiting friends and family, she left her signature touch on a home. Her refinishing projects will continue to be appreciated for years to come.
Pat's greatest joy was her grandchildren. As her first gift to each, she traveled to her daughters' homes for the first two weeks after every birth. She sang, danced, cooked, cleaned, and cuddled, welcoming them into the world. When Thorley's children started school, MomMom spent hours listening to them read on the phone, building up their "reading minutes." While MomMom kept her house pristine, she didn't mind when her grandchildren made a mess baking or playing with her (and there was always a lot of baking and playing.) Rules were flexible for her grandkids; she once took Gus out for an impromptu driving lesson in Terry's convertible when he was only fourteen, letting him drive the residential streets of Carlsbad for a memorable hour. MomMom cared for each of her grandkids with the utmost love and affection, leaving a lasting imprint.
After they retired in 2001, Pat and Terry began traveling on volunteer trips, primarily to help the less fortunate with organizations such as Habitat for Humanity, Fuller Center for Housing, and One Small House. They helped build traditional and indigenous homes in dozens of places around the world, from Alaska to Zambia. Pat also enjoyed the adventure and physicality of white water rafting. She rafted the Colorado River through the Grand Canyon, and the Yampa and Green Rivers in Utah. During an infamous rafting trip on the Rio Usumacinta bordering Guatemala and Mexico—the only way to access certain Mayan ruins—they were even shot at by Guatemalan guerrillas! Pat climbed Yosemite's Half Dome, hiked the Inca Trail into Machu Picchu, trekked through Nepal, and spent two days in the mountains of Rwanda's Volcanoes National Park gorilla trekking with guides. She always considered Mount Hood in Oregon to be "her mountain" because it was the first snow-capped mountain she saw up close.
Pat's volunteer work extended into her local community. She and Terry helped build houses with the local San Diego chapter of Habitat for Humanity, and maintained local Carlsbad trails until her health prevented it.
Pat was diagnosed with Alzheimer's in early 2016 and shortly thereafter, significant back issues developed which greatly restricted her mobility. Despite Pat's condition, her love and affection for all and her desire to do good in the world remained strong. Even as her health declined, she still kept her wonderful sense of style and design, continuing to help pick out drapes in the months before she passed. We would like to thank her doctors at UCSD for their efforts during this challenging journey. We are also grateful to Amy Wombat and the entire staff of Memory Lane for their compassionate care and friendship.
She is survived by husband Terry, daughter Paige and husband Carl Waldspurger, daughter Thorley, grandchildren Emma and Gus Waldspurger, Adam, Caleb, and Noah Papay, Morgan Whitman, sisters Joann Antil, Judy Davenport and Chrissy Jerew, many nieces and nephews, as well as numerous friends, co-workers, and her beloved cat, Tigger.
Relatives and friends are invited to Pat's celebration of life at 2pm on Sunday, January 16, 2021 at The Unitarian Universalist Fellowship of San Dieguito, 1036 Solana Drive, Solana Beach, CA 92075. In lieu of flowers, donations may be made in her memory to the Alzheimer's Association of San Diego (alzsd.org) and San Diego Habitat for Humanity (sandiegohabitat.org).